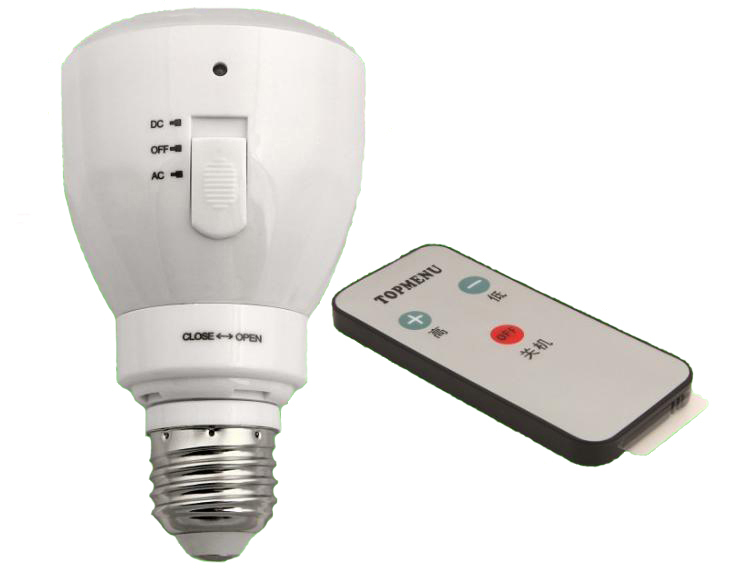 Features:
Provide 120º beam angles.
Easy Installation:Using Existing E27/E27 Base Fixture
Very Low Power Consumption:Less than 3Watts
Long lifetime: 25000 hours (L70).
Sturdy Construction:PMMA Lampshade And Plastic casing.
LED type: 3014LED
LED multi function remote charging lamp, is a when the light bulb, but also can be used as a flashlight multifunctional infrared remote control LED lamp, the aesthetic appearance of the built-in lithium battery, can be in when they go out to the LED power supply, convenient to carry, at home, and when the normal LED bulb is used, by city electric power, wide voltage, while increasing the function of infrared remote control, more humane, portable.
Charge and discharge time: 6-8 hours can be filled with a charge with AC220V, under the condition of full load discharge time is greater than or equal to 4 hours.
Benefits:
Energy Cost Savings:Over 60% Compared to Incandescent.
Solid-State:High-Shock & High-Vibration Resistant,Both Electrical and Mechanical
Eco-Friendly:No Mercury, No Lead Content
No Hazardous Emissions:No UV or IR Radiation
Constant Light Output:Even Lighting, Non-Halation
Applications:
Emergency Lighting
Accent / Spot Lighting
Display / Cabinet / Kiosk Lighting
Architectural Lighting
Art Gallery and Museum Lighting
Other Lighting
Download Datasheet