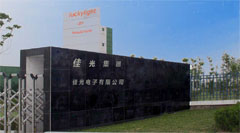 Lucklight Electronics Co., Ltd was founded in 1990. A professional LED manufacturers and Suppliers.We have three factories located in different areas in mainland of China with over 1200 employees.Lucklight Electronics Co., Ltd with standing in china, and looking ahead worldwide, focuses on linking globally. Devoted to specialization and resource integration, we aim at enhancing our core competency. The most important is to carry out the sustainable development and contribution to the society through our strong team work.
Lucklight maintains assembly lines in all product series including High Power LEDs, LAMPs, SMD LEDs, LED Display, Backlight, LED Lighting, Solar Lamps and Infrared products. Etc.
Lucklight's outstanding performance on both global and China markets is due to its core capabilities which include R&D, manufacturing, quality control and product promotion. Contributing to Lucklight's success is its manufacturing efficiency. Lucklight has been able to lower its operating costs and increase its output efficiency and yield rate by maintaining its production equipment, continuously strengthening production procedures, optimizing inventory levels, and emphasizing factory management.

Based on its strong foundation and it partnership with its customers, Luckylight is aiming higher and is ready to lead the direction of future products and markets. These future applications are comprised of markets for LED's for backlight, LED's for hand-held devices, HB LED's for automotive lighting and for the established lighting market and solar lighting markets. With its strength in manufacturing and controlling costs, Luckylight is ready to meet the demands of a larger and growing global LED market.
Lucklight Elec. Co., Ltd is not the biggest photoelectron manufacturer and Supplier,
but perhaps it is your most perfect cooperator!