The global consumption of packaged LEDs in solid-state lighting (SSL) illumination rose from $283.95m in 2007 to $337.79m in 2008, and is forecasted to increase at an average annual growth rate of 30.9% to nearly $1.3bn in 2013, according to a new report from market research firm ElectroniCast Consultants. This is despite continually declining average prices partially offsetting the strong unit growth.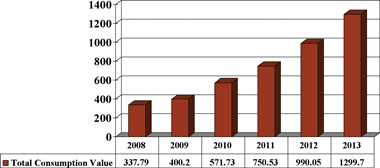 Graphic courtesy of ElectroniCast Consultants: LEDs used in SSL illumination market ($m).
"The market for interior LED solid-state lighting in retail stores and food service is set to expand by a factor of over 15x in five years in the USA,"the excitement of integration possibilities of innovations, as well as the creation of more sophisticated lighting designs and aesthetic quality or effect, are only a few of the market dynamics in this field," he adds. "However, the excitement of these possibilities will require a stronger sense of strategic market branding by the LED industry to counter consumer-level concerns of initial sticker-price shock."
In 2008, residential and commercial/government exterior lighting fixtures (landscaping, pool/fountain, buildings, bridges, architectural and other general lighting) applications represented an 85% share of LEDs used in solid-state lighting (SSL) illumination. The channel lettering lighting/light-box (signage) application represented a 9% share.
High-brightness LED (HB-LED) concepts offering low voltage and operate with low running costs as well as enabling increased longevity with reduced maintenance costs are attractive strengths for LEDs versus the weaknesses of traditional forms of lighting.